Message from the President
About Shikoku University

Message from the President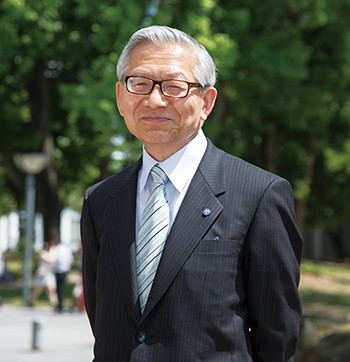 What is your image of university?
What are your expectations?
I imagine you have a wide variety of dreams and hopes: to develop your individuality and capabilities through diverse experiences at university, to acquire knowledge and cultivate practical skills ranging from fundamentals to specialized fields, and to become someone who can contribute to the world and the community by using what you have learned.
However, today the world's situation and economic conditions are constantly changing, and it may not be easy to make your dreams a reality.It is crucial to have strength and confidence as a unique, outstanding individual--to win out in a tough society no matter how conditions change.
At Shikoku University, we do not just provide education to enhance the individuality of each student, in areas such as social skills, practical skills, and the ability to contribute to local communities, but also offer close guidance and support for finding employment, and we have consistently maintained a high employment success rate.
We also adapt to changes in the times and society, and work to stay one step ahead, through efforts such as
①Faculty of Management and Information Science:Start of three appealing new courses,
②Completion of Art Building:Extending new directions in education such as design art using the latest equipment, and popular music including Vocaloid,
③Greater support for sporting activities:Completion of the Shirasagi Ball Field, an all-weather facility with artificial turf, and a scholarship program at the highest level in Japan, with an expanded range of applicable competitive sports,
④Development of human resources to contribute to the community:Student-participation based activities to contribute to the community as a core university for both the region and for knowledge.
We hope you will enroll in Shikoku University--a university which takes good care of its students, and helps them grow into well-rounded, capable human beings.
Shikoku University
Shikoku University, Junior College
President Kazumi Matsushige