Access
About Shikoku University

Access
There are many access routes to Shikoku, including the Akashi Kaikyo Bridge, Onaruto Bridge, the Great Seto Bridge, and the Shimanami Expressway.
Tokushima Prefecture has the easiest access to Kobe and the Kansai region thanks to Awajishima Island between Shikoku and the main island of Honshu.
Shikoku University in Tokushima is attractive due to its bountiful nature, rich history and culture, and close proximity to major urban areas. Why not spend your most meaningful university years with us?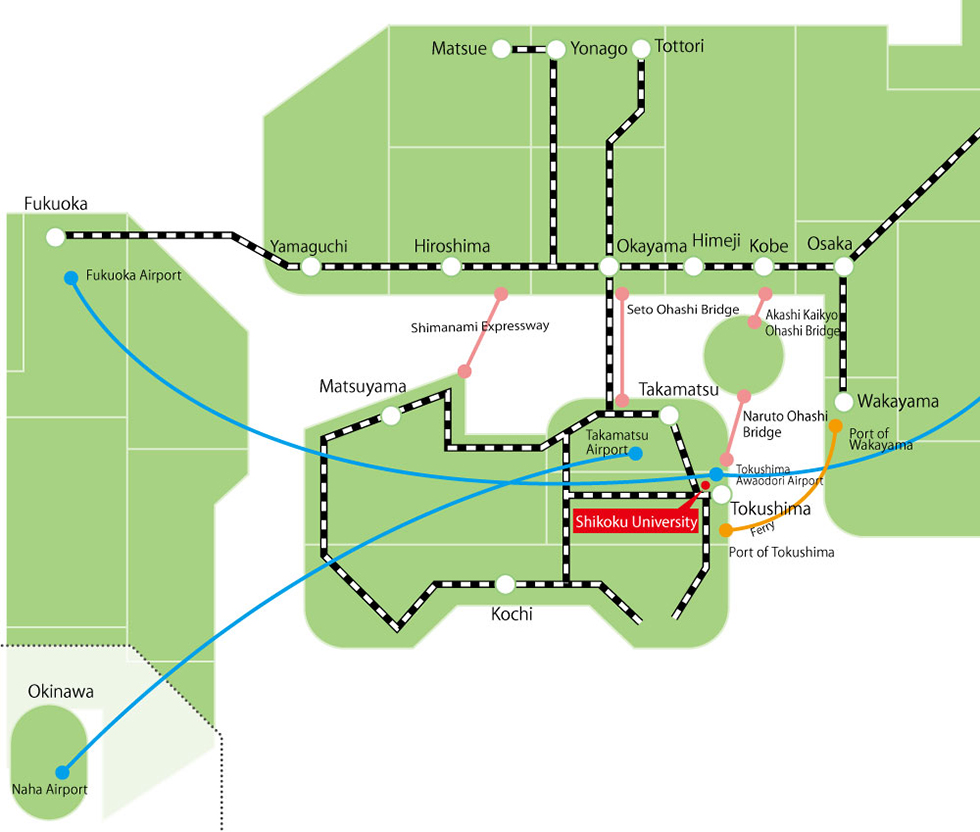 Highway bus
Tokushima-Takamatsu
90 min
Tokushima-Matsuyama

190 min

Tokushima-Kochi
160 min
Tokushima-Okayama

140 min

Tokushima-Hiroshima
225 min
Tokushima-Kobe(Sannomiya)
110 min
Tokushima-Kobe Airport
140 min
Tokushima-Osaka(Umeda)
150 min
Tokushima-Kansai International Airport
165 min
Ferry
Port of Tokushima-Port of Wakayama
120 min
JR Limited Express (Tokkyu)
Tokushima-Takamatsu
60 min
Tokushima-Kochi
150 min
Matsuyama-Takamatsu
150 min
Okayama-Takamatsu
55 min
Airplane
Tokushima Awaodori Airport-Haneda Airport
70 min
Tokushima Awaodori Airport-Fukuoka Airport
70 min
Takamatsu Airport-Naha Airport
115 min
Kobe Airport-Naha Airport
115 min
Kansai International Airport-Naha Airport
115 min
Detailed Map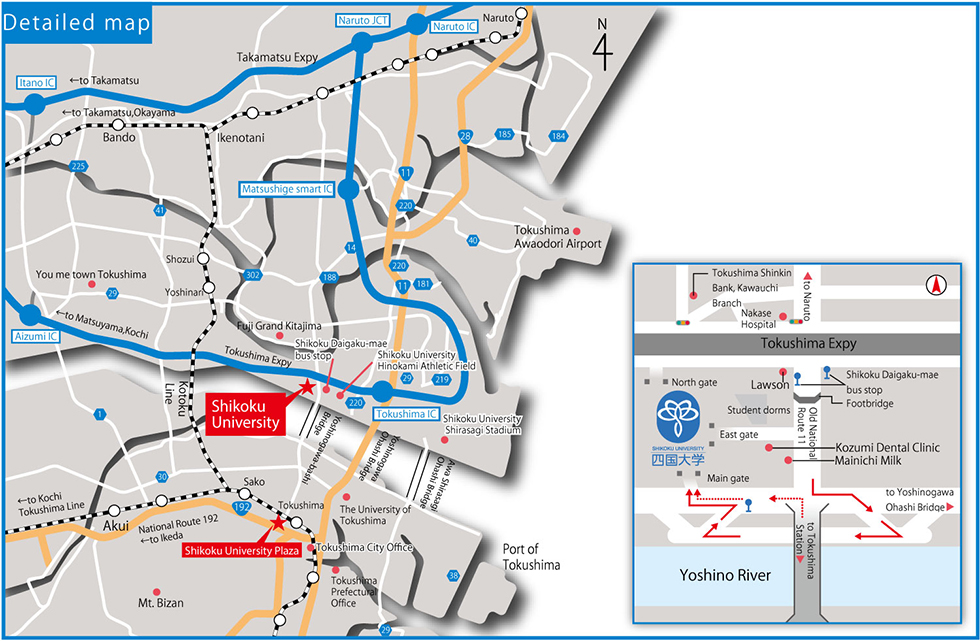 About 20 minutes by bus from Tokushima Awaodori Airport.
From JR Tokushima Station, ride the bus about 15 minutes. Get off at the Shikoku Daigaku-mae stop and walk for 3 minutes.
A school bus also runs from the Shikoku University Plaza (on the west side of JR Tokushima Station). This bus takes about 10 minutes.