Producing students with a wide range of knowledge and a rich sense of individuality
We strive to provide personalized academic guidance by promoting close interactions between instructors and students, and to cultivate talented individuals who are capable of contributing to efforts to improve culture and develop their local communities.
The Junior College adheres to the same founding principle as Shikoku University, "Holistic Independence," and strives to cultivate people with broad knowledge, a keen sense of integrity, and strong communication skills by helping them acquire specialized knowledge and skills in their various departments and majors. To do this, we seek to enroll:
Students who have a bright and positive outlook
Students who want to challenge themselves to achieve various certifications
Students who have a deep respect for person-to-person connections
Students who have a keen sense of responsibility
Students with a strong sense of purpose.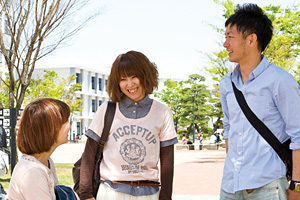 Department of Business and Communication
Can you see that person beaming? That's you, in the very near future!
In the Department of Business and Communication, students gain:
Basic skills for professional life (the ability to take bold action, the ability to think through
issues, the ability to work as part of a team)
Practical skills (business etiquette, information utilization skills, bookkeeping, accounting, economics and management)
Specialized knowledge and skills in various fields.
By equipping students with specialized knowledge in various fields, built on the basic and practical skills that constitute "business communication skills," the Junior College is cultivating talented individuals who will be able to work as business specialists.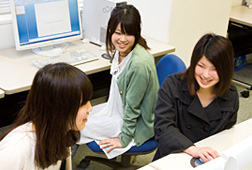 Medical Clerical Course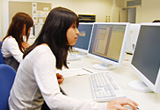 The goal of this course is to enable students to obtain their certification in medical clerical work, a particularly popular profession. They can also obtain their Senior Secretarial certification, and can acquire the basic knowledge required of professional businesspeople, including practical business skills and etiquette.
Business Administration Course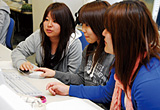 To meet the needs of those seeking employment in corporate environments, this course offers a good balance of knowledge across such areas as information processing and use, bookkeeping and accounting, marketing, economics, and management, with a particular focus on practical business skills.
Business Administration Long-Term Course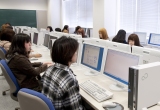 With essentially the same curriculum as the Business Administration Course, this course is offered through mornings-only classes over a three-year period.
By extending their student experience over three years, students are able to gain extensive real-world experience in internships and other roles, and can challenge themselves to pursue various certifications and examinations.
Business Information Course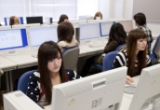 Students learn to use office software, and to effectively use information in real-world business settings.
Civil Service Course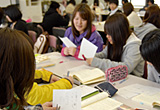 This course primarily prepares students to take the civil service exam. It covers a wide range of business-related knowledge, from information processing to economics and management.
Tourism Business Course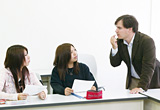 Students will get the education they need to work for a travel or hospitality company, or in other areas of the tourism industry. The goal is equip them to contribute to local tourism.
| | |
| --- | --- |
| Degrees Offered | Associate's Degree |
Department of Science for Human Health, Major in Food and Nutrition
Striving to become professionals who think about health from the perspective of food, and who have a role to play in a variety of business settings
The Major in Food and Nutrition aims to develop experts (dietitians, nutrition instructors, food scientists) who can help support lifelong health.
This major is characterized by small seminar-style classes, and thorough instruction in information processing. In seminar-style classes, students learn to write papers, give presentations, and develop other basic professional skills. In the information processing classes, students acquire advanced information processing skills in computer classes that are linked to the specialized fields of nutrition and food science.
The goal is to equip students with a broad range of specialized knowledge and advanced skills so that they can study human health from the perspective of nutritional science, food science, and culinary science.
In 2010, 90% of students in this major took the Dietitian Certification Exam administered by the National Association of Dietitian Training Institutions and earned average scores well above the national average.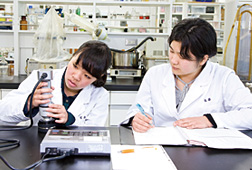 Degrees Offered
Associate's Degree

(Food Nutrition)
Department of Science for Human Health, Major in Welfare Care
Cultivating care workers (national certification) who can help others live with dignity and independence
In the Major in Welfare Care, students acquire specialized knowledge and skills through hands-on learning opportunities where they can discover the joy of helping one another and figure out what kind of work they want to spend their lives doing. This major aims to cultivate care workers who can help people maintain their dignity and independence, a profession that is essential in Japanese society today. The specialized caregiving knowledge and skills that students learn in this major not only are needed by our society, but also can play an important role in enriching those students' own lives at home.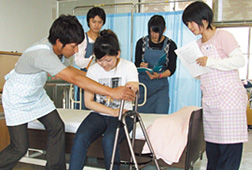 Degrees Offered
Associate's Degree

(Welfare Care)
Department of Early Childhood Care and Education
Educating childhood caregivers with a rich sense of integrity and advanced expertise
This department trains caregivers who can provide guidance based on the specific needs of individual children and who are equipped with a keen sense of integrity and an advanced level of expertise. The curriculum includes general education classes as well as classes in specialized topics.
The appreciation for caregiving and specialized knowledge and skills that students learn here can be put to practical use in kindergartens, daycare centers, and other welfare facilities, as well as in the students' own families in the future.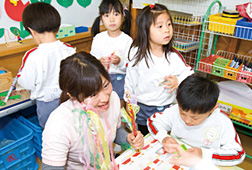 Degrees Offered
Associate's Degree

(Early Childhood Care and Education)
Department of Music
It's the passionate appreciation of music that's most important
It does not matter what level of musical achievement a student has at the time of enrollment.
There is no need for everyone to start from the same starting line.
It's the student's passionate appreciation of music that's most important.
This department provides instruction tailored to the individual student, a unique curriculum, and support for the student's job hunting, educational advancement, and musical promotion efforts.
Two years of study in the Department of Music at Shikoku University Junior College is the shortest path toward your dreams.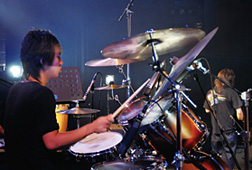 Classical Music Course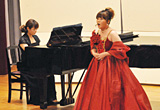 Students can choose from vocal music, piano, electronic organ, strings, woodwinds, or musical composition. Students will acquire the knowledge and skills necessary in the field of classical music, including musical theory, solfeggio, and choral music. Students can also elect to take some popular music classes. The course has produced many music teachers.
Popular Music Course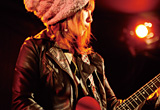 Student can choose from vocals, guitar (electric, acoustic), bass, drums, keyboard (popular piano, synthesizer, electronic organ), lyrics and composition, or woodwinds. This course equips students with genuinely helpful knowledge and skills related to band classes, popular music theory, and recording techniques.
Music Therapy Course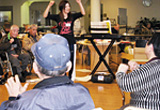 Have you ever considered using your musical talent in a medical or welfare setting? Students can choose from either classical or popular music. In addition to their music classes, students will also take classes in the fields of medicine, welfare, and education. In their second year, students will get to participate in performances at welfare facilities.
Degrees Offered
Associate's Degree

(Music)